2014 NHRA PRO MOD SERIES TO FEATURE 10-RACE SCHEDULE, TV PACKAGE
12-8-2013 - GLENDORA, CA - The 2014 NHRA Pro Mod Drag Racing Series schedule has been released featuring a 10-race schedule, with each event to be televised on the Velocity Channel, it was announced today by NHRA officials.

The series will visit drag strips across the country from March through November and will include a visit to Georgia's House of Speed, Atlanta Dragway, for the 34th annual Summit Racing Equipment NHRA Southern Nationals, May 16-18.

Each race will air in a half-hour show on the Velocity Channel, which launched in October and is owned by the Discovery Network. The Velocity Channel features the best in automotive, sports, leisure and travel programming. The shows will be produced by Masters Entertainment Group and are scheduled to air during 10 consecutive weeks in the fourth quarter of 2014.

"We anticipate an exciting season of racing in the NHRA Pro Mod Drag Racing Series and look forward to the Velocity Channel putting the NHRA Pro Mod Series on television to showcase these 250-mile-per-hour race cars," said Tom Compton, president, NHRA. "We also thank the presenting sponsors of the NHRA Pro Mod Series events for their support which makes it possible to conduct the series."

The presenting sponsors will be recognized in the applicable Velocity Channel telecast and during NHRA Pro Mod Series qualifying and eliminations at the NHRA national events at which the Pro Mod Series is contested.

J&A Services, an oil and gas exploration development company in Grand Junction, Colo., is the presenting sponsor for the second... [Read More]
Al-Anabi Racing Issues Statement Regarding ADRL


In response to the open letter sent out by ADRL president Kenny Nowling this week, Al-Anabi Racing USA, LLC CEO Donald Greenbaum issued a response. Read below:

On November 27th, 2013, American Drag Racing League (ADRL) president Kenny Nowling issued an open letter to the public stating that he had only been partially paid by the sponsor of the Battle For the Belts.

In September 2013, $380,000 was wired to Mr. Nowling to pay the ADRL Battle For the Belts purse to non Al‐Anabi owned race teams. The Al‐Anabi Racing teams were paid directly by Al‐Anabi Racing the sum they were owed by the ADRL. The total of these two payments amounted to $500,000.

Earlier in 2013, the ADRL received from Al‐Anabi other payments totaling $280,000 to support the ADRL championship purse and the newly announced Pro Drag Radial class.

No one has supported the ADRL and doorslammer drag racing more than Al‐Anabi Racing and it is outrageous for Mr. Nowling to blame others for his failure to distribute his sponsor's money after he received it.

We would rather not be involved in a public discussion of the matter, but the events of this week leave us no choice. We now leave it up to Mr. Nowling to show the racing community how the distribution of the $380,000 he received in September was handled. Only he has the canceled checks.

Sincerely,

Donald R. Greenbaum

Chief Executive Officer

Al-Anabi Racing USA, LLC
Nowling Issues Open Letter to ADRL Community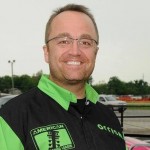 As rumors continue to swirl regarding the American Drag Racing League, president Kenny Nowling today released an open letter to the ADRL community in an apparent effort to clear the air.

Nowling's letter reads:

(Lake St. Louis, Mo. USA) — November 27, 2013— I think by now most everyone that follows the ADRL is aware that a significant issue has arisen regarding the payout of the 2013 ADRL Battle for the Belts. I want to be clear before proceeding that I take full responsibility for the current situation that is facing us. I also want to assure everyone who participated in the 2013 Battle for the Belts that they will receive one hundred percent of what they are owed.

I have been involved in promoting drag racing since 2002 and prior to Friday, September 6, 2013, had never advertised or held a race that I did not have the monies to cover. During those twelve years I have raised and paid out several million dollars to racers. As proud as I am of that, I am equally ashamed of what transpired on September 6. Regardless of what promises were made by our sponsor leading up to September 6, I should have cancelled the event. I spoke with our sponsor at the event on that day and was given instructions to not cancel the event and was repeatedly assured that we would receive one hundred percent of the prize monies immediately. Holding that event was simply the biggest mistake of my career.

The second biggest mistake was made on September 27. On that date we were partially paid and we subsequently paid some of the Battle for the Belts competitors. The fact is no one should have been paid until everyone could be... [Read More]
John & Camp Stanley - World's Quickest Pro Mod - 5.64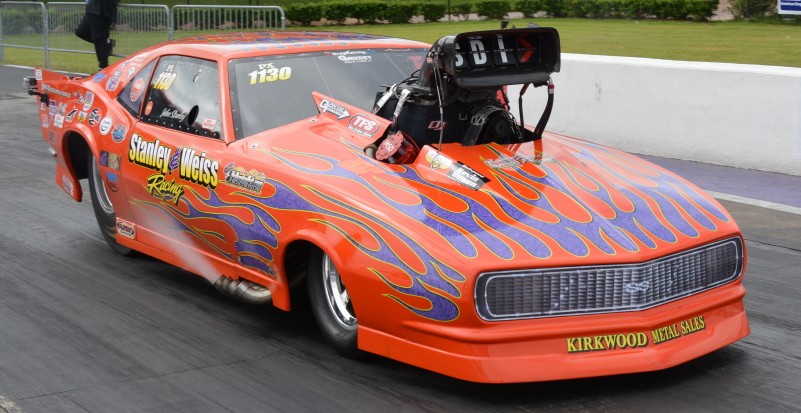 ProModZone.com congratulates John & Camp Stanley and the entire Stanley & Weiss Racing team on their back-to-back 5.64-second passes during the Street Car SuperNationals at The Strip at Las Vegas Motor Speedway, cementing themselves as the owners of the world's quickest door slammer.
Danny Rowe & Crew Chief Jimmy Rector Awarded Prestigious Steve Engel "Big Man, Big Heart" Award Following Final Round Appearance in Las Vegas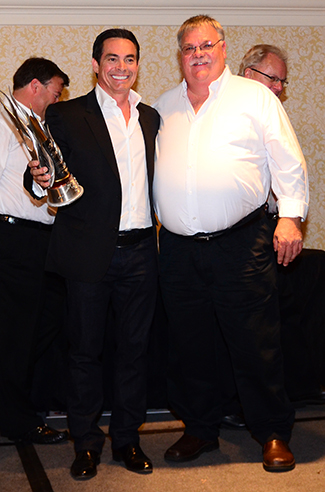 (10-22-2013) LAS VEGAS, Nevada – It seemed like a race weekend one step shy of perfect for the Agave Underground Pro Mod team as Danny Rowe came up short in the final round against fellow Pro Mod frontrunner Troy Coughlin, but that all changed later Sunday night during the NHRA Pro Mod Drag Racing Series Awards Banquet when Rowe and longtime crew chief Jimmy Rector were awarded the Steve Engel "Big Man, Big Heart" Award.

In front of a room filled with their racing peers, Rowe and Rector were presented the award that is handed out annually to a member of the Pro Mod community that best exemplify Engel's gregarious spirit and generous nature. The award was created in Engel's memory, following his untimely death in 2008 as a result of a high-speed accident during qualifying for the U.S. Nationals. Rowe and Rector join John Waldie, Mike Knowles, Troy Coughlin and Roger Burgess as recipients of the perpetual honor.

Rowe, a Pro Mod racer for nearly 15 years, and Rector, a multi-time champion Alcohol Funny Car racer himself who has served as Rowe's crew chief since 2006, are amongst the most beloved characters in the pits at any stop on the NHRA Pro Mod Drag Racing Series tour. Though fiercely competitive, their friendly and family-oriented nature is well known in racing circles.

"Jimmy and I are so honored to receive this award," said Rowe. "But, honestly, speaking for myself, I'm humbled more than anything else. My attitude is that I'm so fortunate to get the award, but it's this whole group that deserves it – all the

... [Read More]
Troy Coughlin dedicates 100th national-event win to brother Jeg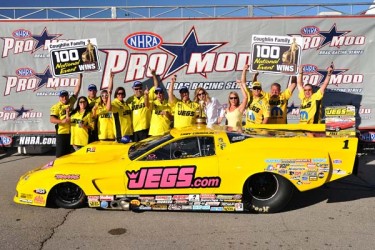 (10-25-2013) LAS VEGAS, NV – No sooner had JEGS.com Pro Mod driver Troy Coughlin won the NHRA national event Sunday at The Strip at Las Vegas Motor Speedway that he dedicated the Wally trophy to his younger brother Jeg Coughlin Jr.

The Vegas win was the 100th for the Coughlin family in NHRA national events, with Jeg earning 72 of that total.

Sunday, it was Troy Coughlin who earned the Wally with a dominant performance with his JEGS.com Pro Mod turbo Corvette. But he shared the spotlight with his younger brother.

"I thought about it for a long time," Coughlin said. "We've all raced about the same amount of years, and every now and then, someone asks, 'Which one of you guys is the better driver?' I said, 'You'll have to let the trophies speak for themselves because Jeg's got a ton of them. The rest of us have a good amount, but he's got quite a bit."

Troy signed the base of the trophy with, "To Jeg: You've paved the way to the 100th. This one's for you. Love, Troy."

"I handed it to him down at the finish line," Coughlin said. "It's pretty neat. It's a proud moment for the family, and to be able to dedicate this to him, there's nothing better."

Jeg Coughlin had just lost in the semifinals of Pro Stock, but watching his older brother blitzing Danny Rowe in the Pro Mod final put a wide smile on Jeg's face.

"I had just gotten beat by V Gaines in the semifinals, and I was making my pass in front of the stands," Jeg Coughlin said. "We've had such a fantastic crowd here all weekend. I saw Troy leave, and I said, 'Please get down,

... [Read More]
NHRA Pro Mod Drag Racing Series - Las Vegas Photo Blog
(10-25-2013) LAS VEGAS, Nevada – The stars of the NHRA Pro Mod Drag Racing Series are preparing for the opening round of eliminations at The Strip at Las Vegas Motor Speedway. Here are a few pictures from the final NHRA Pro Mod event of the season!

Troy Coughlin picked up his second win of the 2013 season in the NHRA Pro Mod Drag Racing Series at the NHRA Toyota Nationals at The Strip at Las Vegas Motor Speedway. The race is the final in 2013 for NHRA's popular 250-mph doorslammer touring series.

Coughlin, the 2012 world champion in the class, also earned his fourth career NHRA Pro Mod Drag Racing Series victory by taking his turbo-powered JEGS.com Chevy Corvette past Danny Rowe in the final round with a run of 5.913 seconds at 248.34 mph. Rowe and his supercharged Agave Underground Tequila Camaro went 5.975 at 242.63 in the championship round.

It topped off a strong display in eliminations for Coughlin, who finished second in the points standings. After qualifying No. 2 with a 5.922 at 245.99, Coughlin claimed a victory in the first round over Dan Stevenson by going 5.918 at 245.72 on Saturday.

Coughlin's Sunday started with a weekend-best pass of 5.889 at 246.75 to move into the semifinals, where he knocked off Mike Knowles with a run of 5.902 at 247.29.

Rickie Smith claimed his first NHRA Pro Mod Series world championship, having clinched the world title heading into the event at Las Vegas.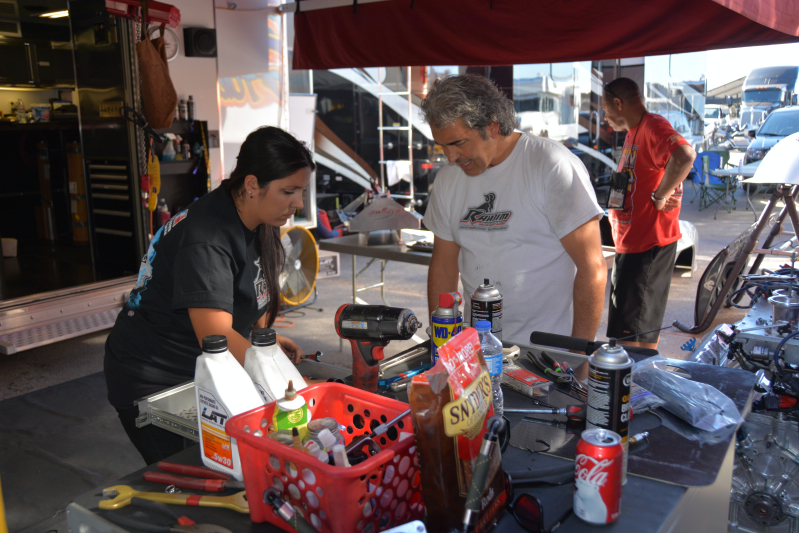 Jennifer Rahaim and father, Bob, working in the pits between rounds.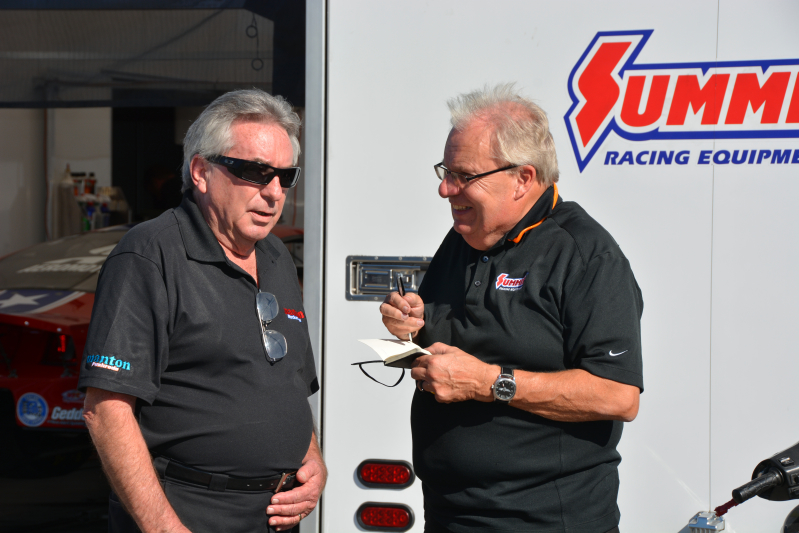 NHRA Pro Mod ambassador and all-round

... [Read More]