Von Smith gears up for 2009 ADRL Series opener in Houston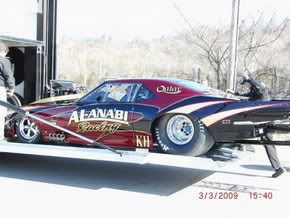 "The thing with a new car is that you think it is ready . . . but it never is," said Smith.


After coming home empty-handed from last week's long business trip to Bahrain , Von Smith will be searching for a happier ending this weekend a lot closer to his Oak Ridge , Tenn. , home.

Smith, crew chief Howard Moon and the crew of new Al-Anabi Racing 1968 Chevy Camaro will be at Houston Raceway Park for the season-opening National Guard ADRL Tour's Safety-Kleen Dragpalooza V in Baytown , Texas , March 6-7.

Getting the Tim McAmis-built Pro Mod Extreme race car ready for Friday's qualifying in just a few days became the sole focus of the team after it arrived in Oak Ridge Sunday.

"The thing with a new car is that you think it is ready . . . but it never is," said Smith. "Our goal is to get everything together so we can get the car to the Houston area Thursday. That way we can test at a little track near Baytown and leave from there to go straight to Raceway Park and get ready for Friday's runs.

"We are optimistic," Smith continued. "We have a good team; it's a matter of us proving it to ourselves."

Smith is making his ADRL Pro Extreme debut at Houston . Pro Extreme features supercharged engines and breathtaking, side-by-side eighth-mile competition.

"We tried to qualify at the last ADRL race last year after we got our 1957 Al-Anabi Chevy built, but we didn't qualify," he recalled. "ADRL is definitely the best of the best when it comes to Pro Mod racing. There will be lots of cars. You just try your best and see what happens."

Sometimes your best can't overcome unforeseen mechanical woes – like what happened at Bahrain last week.

"Everything was fine at first," said Smith. "We had a push rod problem but we got that worked out.

We qualified No. 1 and then we started getting behind the 8-ball with clutch problems that came right before we ran.

"We had to put in a new clutch and that pretty much was the crux of our whole problem. When you put a new clutch in, you kind of throw a new tune-up at it because you don't know how that clutch is going to react. The tires went up in smoke – too much clutch – and we lost in the first round."

Smith drove the 1957 Chevy to victory in the first two series races in Bahrain before mechanical problems shortened his racing day last month at the inaugural event in team owner Sheik Khalid Al Thani's hometown of Doha , Qatar .

"Racing in Houston will be fun," Smith predicted. "It doesn't matter where I'm racing. The first time we were overseas I felt totally lost, but everything just clicked and we won. I like racing in the states as well. Heck, I like racing . . . on foot or in car, I don't care."

Friday's time trails are scheduled from noon until 6 p.m., followed by the first qualifying session at 7 p.m. Saturday's schedule includes a second qualifying session at 10 a.m., followed by another at 1 p.m. The eight-car elimination rounds begin at 4 p.m.